Many people enjoy designer baby clothes shopping because they are full of fancy and stylish designs. Since a lot of people love dressing up their kids at their best, there are some tips that we have gathered for buying designer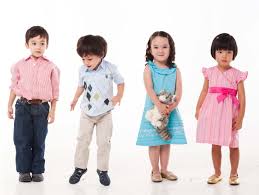 baby clothes. 
Choosing a Size bigger than your kids actual size
Since designer clothes are expensive to purchase, one wouldn't want to discard them very quickly. Which is why it is highly recommended that when going for shopping of designer baby clothes, one must always go for clothes that are a size bigger than your kids actual size as they are growing very quickly and will be needing new clothes very often.

 

Get clothes for the Upcoming months in Sale Season
It's very rare that you would find sale in designer clothes, but whenever that happens, make sure you are buying for the upcoming months and seasons. For instance, if your child is 9 month old currently, buy clothes with the anticipation of 18 to 24 months which would come in handy at that time. Since it's not very often that sales occur in designer shops, one must take full advantage of it whenever that happens by shopping for the coming months ahead.

 

Be Selective and go for the Mix and Match Combo
Well, there's a lot you can do with your baby dressing. If you are on a tight budget and still want to get a designer baby piece for your kid, you can always go for a mix and match combination where you can pair up a designer top with a non-designer lowers. This combination is best because it is usually the upper that is noticeable so you can keep that as a designer option.

 

Online Shopping
Did you know you could find some of the best designer baby clothes at some very affordable rates? Whether they are new or secondhand, there are websites where you could always find the best deals online to get those designer clothes. One should keep on checking online in order to find the best rates and deals.

 

Inspiration through Websites and Blogs
One of the ways where you can find about kids fashions and designer clothes trend is by searching up for blogs and websites online which could be an inspiration and can also guide you on better dressing for the babies. Also, these blogs not only help in how to dress up your baby but also helps in finding you the best alternatives in terms of fashion. They are also a very good source to help you find the best places to find designer baby clothes in reasonable prices.